Bringing the Ontario Tech University brand to life
By Sharon Aschaiek | April 17, 2019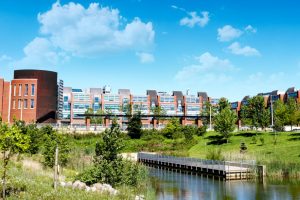 Sometimes, it can take a while for a higher education institution to land on the right brand identity. The long and winding brand journey of what is now Ontario Tech University in Ontario, Canada has some useful insights for what it takes to overcome identity struggles and realize a winning brand.
Brand challenges
Ontario Tech University began in 2002 as the University of Ontario Institute of Technology, or UOIT. In the years since, the university grappled with this name due to several factors:
name was long and confusing

acronym was challenging

brand colours didn't stand out

too many brand taglines

poor positioning of technology focus

inconsistent branding standards
Research conducted by the university found that even though it has been around since 2002, more than 50% of people didn't have a clear idea of its reputation, while 40% of people didn't even know it existed.
 Re-imagining process
On its website, the school has summarized the key elements of its recent rebranding process. The first step was to establish the goals for its new brand and visual identity. Here are the main qualities they were seeking for their new brand:
simple, unique and identifiable

technology-focused

modern and relevant

flexible
An advisory group of 10 people—with representation from administration, faculty and students—was created to make recommendations for brand names and logo designs, evaluate proposed visual identity concepts and advise on implementation plans. The school went through a comprehensive brand reflection and consultation process with its community that included almost 8,700 engagements:

The final brand was rolled out starting in late February, first within the school's community, and then, on March 27, to the public. Check out this video showcasing the new brand:
The school's internal surveys of the new brand yielded responses such as "unique, modern, intriguing and engaging." The website is the first brand element to be rebranded; everything else, such as campus signs and sports uniforms, will be phased in starting in the 2019-20 school year. The original UOIT moniker will remain for government-related business, as that is the name in provincial legislation, as well as for degree parchments.
Winning features
The new brand hits the four main targets that the university had set. The name is concise, easy to pronounce and understand, clearly presents the school's focus on and strength in tech-oriented education. I like the use of the "tech" versus "technology" as it makes the school feel more accessible and with it.

The new brand has a crisp, fresh and creative design that is distinct from those of other institutions. The colour palette works – the mix of blue, which is calming, and orange, which is energizing, complement each other well.
In a recent media article, Steven Murphy, president and vice chancellor of Ontario Tech University, shared his perspective on the rebrand:
"This is a bold step forward for our university and the beginning of an exciting new era…Ontario Tech University is the first Canadian university to position itself as "tech with a conscience," and I am confident our new brand will help us share the next chapter in our amazing story."
Sharing the wisdom
I think that the university's public sharing of its brand challenges and identity renewal provides valuable pointers to other schools about the main considerations of higher education branding. It also demonstrates that choosing the right brand is a complex and often time-consuming process that can involve much trial and error. This is true for any type of organization, but maybe more so for universities and colleges, as they may feel more pressure to shift their brand positioning in response to shifting socioeconomic and labour market trends.