Being reactive in higher ed communications
By Sharon Aschaiek | Oct. 31, 2018
As communicators, we tend to focus mainly on planning content ahead of time. But how do we share meaningful content about developments that are happening right now?
That's the topic Emma Gilmartin and Daniel Marrable addressed at the 2018 ContentEd conference on content strategy in the education sector. Both work at the University of Glasgow in Scotland — Gilmartin as head of social media, and Marrable as senior social and digital media officer. Together, they led the session Planning Content that Can't be Planned: Embracing and Embedding Reactive Approaches in your Content Strategy.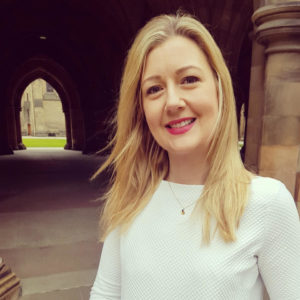 "Universities have so much great content to talk about, and while it's important to plan campaigns, if you don't allow time for the reactive piece, you're not able to capitalize on the topics being discussed in the moment," Gilmartin says.
Building on trends
Gilmartin and her team — which includes another social and digital communications officer, and a part-timer focusing on social media for the Chinese market — uses the content monitoring service Talkwalker on a daily basis to identify trending conversations that involve the school. They're looking for ways to build on or expand these conversations on the school's social media networks on Twitter, Facebook, Instagram and YouTube.
One recent and relatively high-profile case where the team flexed its reactive response muscles was on June 1, when they tweeted about Film and Television studies lecturer Rebecca Harrison's analysis of the screen time of female characters in the Star Wars franchise. That decision came on the heels of Harrison's own tweet a few days earlier on the subject, which generated much discussion and was covered by media outlets such as Mashable, ET Canada, IndieWire and Bustle.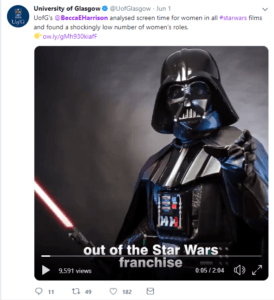 "It was a good way to build on a story that people were already talking about and to keep the buzz going or amplify it," Gilmartin says, adding that they weighed in a second time to defend Harrison's analysis after she received misogynistic feedback.
Organized reactivity
Sometimes reactive content does require planning. For instance, Gilmartin and her team plan to create responsive content during student graduation ceremonies, and work with just general ideas of what would make for good stories. On the day, they talk to students and then decide which ones to tell. Another time of year that's ripe for creating reactive content is when university acceptance letters are sent out. They have a bank of welcome GIFs that they personalize and share with successful applicants.
Their goal not only with reactive content but all content is to communicate in ways that are informative and/or entertaining and/or engaging. One reactive Facebook post from June 29, 2017 that really struck a chord was a photo of a dog wearing a mortar board who was there with his graduating owner. Check out all the likes!
Gilmartin has cultivated strong relationships with her director and with senior at the university, so when necessary, she can usually secure approval quickly to respond to news or discussions. They evaluate and share their results in quarterly reports for senior managers and other university communicators that indicate the most engaging and shared posts. They build on these findings to continually tweak their approach to reactive content.
"A lot of our content that was not created in advance, that's just rough and ready at the time, people are interested in it," Gilmartin says. "When we can tap into a hot topic that relates to the university, or can tell the human side of U of Glasgow stories, people are receptive."