Putting UTM research in the spotlight
By Sharon Aschaiek | March 6, 2019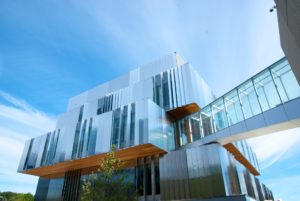 One way a higher education institution can differentiate itself from other schools and raise its profile is by effectively highlighting its research activities and breakthroughs.
The University of Toronto Mississauga (UTM) has landed on a powerful way to share its research endeavours: a monthly podcast featuring informative, engaging interviews with its researchers. Called View to the U: An Eye on UTM Research, the podcast was started in January 2017 by research communications and grants manager Carla DeMarco as a way to bring to life the compelling insights emerging from different research projects.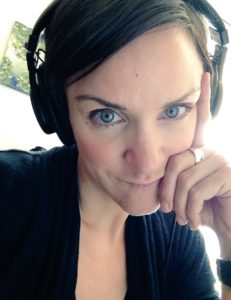 "I had always written articles about these studies, but so many times when interviewing faculty members, I'd be thinking, I want everyone to hear what they have to say, and I can't capture it all in a 500-word story," says DeMarco, who works in the Office of the Vice-Principal, Research. "Sometimes hearing about a study in the researcher's own voice is more compelling."
Learning curve
Being completely new to podcasting, DeMarco conducted extensive research to determine the right type of microphone, mic stand and recording and editing software to use to produce podcasts. She also looked into interview tips on encouraging subjects to share noteworthy insights and stay on the topic. She was able to find valuable resources at learning platform Lynda.com and from a fellow podcasting communications colleague at the university. DeMarco's musician husband was able to provide her with sound engineering support as well as music for her intro and outro.
"It was all new to me and I was stepping outside my comfort zone, so I did a lot of online tutorials to figure things out," DeMarco says.
Creating themes
Utm has 17 academic units encompassing 92 areas of study. DeMarco wanted to distill the research output from these units into specific categories in order to make them more relevant to listeners. She decided to organize them into annual themes.
In 2017, the theme was UTM at 50, to mark the 50th anniversary of the campus. The episodes that year featured some of the UTM's most senior faculty members, including Historical Studies professor Rebecca Wittmann discussing her research on the Holocaust and its enduring effect on Germany and subsequent generations; and philosophy professor Mohan Matthen addressing his research on the philosophy of perception.
Last year, the theme was UTM Women in Academia, and topics covered included the impact of human-environmental interactions on the urban forest by geography professor Tenley Conway; and sociology professors Neda Maghbouleh and Jasmine Rault (who is also appointed to UTM's Institute of Communication, Culture, Information and Technology) talking about their research related to race, immigration, ethics, place, sexuality, archives and digital humanities.
The theme for 2019's podcasts is Global Perspectives, with the goal being to demonstrate how UTM's researchers are having a positive impact on communities worldwide. The February episode marks Black History Month and covers the recent research of history professor Julie MacArthur, which examines how mapping of geographic borders impacted people's identities in Africa in the late 19th and early 20th centuries.
Getting the word out
With the University of Toronto being such a large academic institution—it has three campuses and offers more than 980 programs of study—DeMarco has a wide range of channels through which to promote the podcast.
She shares news about new episodes on UTM's social media accounts, through the Office of the VP of Research's quarterly newsletter, Surge. DeMarco also shares them with U of T's central communications department and, when applicable, the U of T college at which the researcher was a student. She also asks funders of research projects, as well as institutions with which the researcher is cross appointed, to share episodes with their communities.
Boosting interest
To date, the podcast has attracted a total of about 8,000 listens, with listeners hailing largely from Canada but also the U.S., U.K., Japan, Germany, Brazil and other international countries. The podcast's most popular episode featured psychology professor Jennifer Stellar discussing her research on the power of positive emotions—it received about 1,000 listens.
DeMarco is actively looking for new ways to further raise the profile of the podcast. But she is encouraged by the podcast's potential, and by its popularity with most faculty members.
"Faculty members like the format, they see it as an engaging way to talk about their work. Some people are uncomfortable on camera, and they may not want us to spend half a day filming them, so they don't have to worry about that with a podcast," DeMarco says. 'From a user perspective, a podcast is more accessible than a video because you can tune in while you're doing another activity