Higher ed branding enters hospitality arena
 By Sharon Aschaiek | October 9, 2019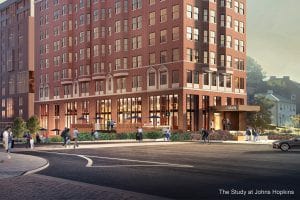 Universities and colleges are always looking for new ways to expand their reach and better engage with stakeholders. Now, John Hopkins University in Baltimore, Maryland has landed on an innovative way to amplify its brand: opening a university-branded hotel.
The private research university is working with New York-based developer Hospitality 3 to convert an apartment building located on JHU property near its Homewood Campus by the summer of 2021. The 11-storey building will be transformed into The Study at John Hopkins, a hotel with 115 rooms, a restaurant and bar, and 2,500 square feet of conference space. The objective is to provide more nearby accommodation space to the university community and visitors, and to help make the local Charles Village Retail District more vibrant.
"The new hotel is aligned with the vision we have built over a dozen years with community leaders that Charles Village should be a thriving destination for our students, city residents, and visitors," says Mitch Bonanno, JHU's chief real estate officer. "The Study will be a great asset for the university, the community, and the City of Baltimore."
The rise of college town hotels
JHU is not the first higher education institution to dip its toe into the hotel business. Hospitality 3, which launched Study Hotels in 2008 to target top-tier university markets, has already opened three other hotels at Yale University, the University of Chicago and University City, which serves the communities of the University of Pennsylvania and Drexel University. A recent article in The New York Times covered the broader trend of independent and chain hotels starting to set their sights on college towns. The other major player in this space is Graduate Hotels, which started operating in 2014 and has already opened 19 hotels at college towns across the U.S. However, it's not clear whether Graduate Hotels engages in business arrangements with the local colleges.
Innovative strategy
This trend reflects the resiliency and ingenuity of post-secondary schools as they try to stay competitive and generate more revenue. Many schools face of challenges such as declining enrolment and retention rates, rising operating expenses and reduced government grants. In this kind of climate, and with a highly crowded higher ed landscape, all schools need to constantly work on staying competitive and attracting more revenue.
Surviving and thriving as a higher education institution requires thinking outside the box when considering revenue-generating projects. But, it's just as important that these projects sync up with—and not dilute or tarnish—a school's brand values. As well, projects that serve and provide more value to a university's campus community are more likely to be winners. Aligning with developers on university-branded hotels is a creative way for schools to expand their physical footprint and accommodate the needs of prospective students and their families, visiting academics and others involved with the university. At the same time, the projects contribute to the vitality of the cities and towns in their area.
Assessing feasibility
Of course, this model may not be a good fit for all types and sizes of higher education institutions. To what extent can relatively small post-secondary schools attract property developers to pursue these types of ventures? The geographic characteristics of each school's local community will also determine whether and how this kind of project could take shape. As well, having a partnership arrangement with a property developer and a financial stake in a hotel call for a skill set that may not exist at every university or college. Ultimately, each school will need to weigh the feasibility as well as pros and cons of entering the hospitality business.