Humber College combines PR and GR to great effect
What happens when the communication and government relations (GR) teams at a higher education institution decide to work hand in hand?
You get amped up exposure on social media courtesy of the prime minister of Canada.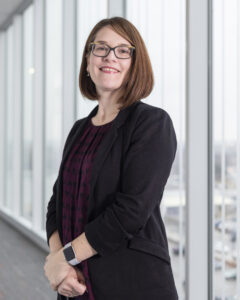 That's just one of the great outcomes of the merger of GR and PR at Humber College. In recent years, the college integrated the two functions, after seeing how closely they work together. On Oct. 26, Humber's Director of Communications, Andrew Leopold, and PR & Communications Manager, Emily Milic, presented on the topic at the 4th Annual Marketing & Communications for Post Secondary Conference.
"When we celebrated our 50th anniversary in 2017, we used traditional and emerging communications activities to enhance our government engagement initiatives, including the materials we were using and our messaging when reaching out to local elected officials," says Leopold, who is part of the college's Government Relations, Marketing and Communications Department. "We saw the need to have a more aligned PR/communications approach to government relations."
The strategic collaboration has made it easier for Humber to take a communications approach to advocacy outreach and initiatives, while also ensuring a GR lens is applied to PR and communication activities. Everyone on Humber's Communications team—including those working in areas such as media relations, external communications, internal communications, digital and social media, content creation and multimedia video production—plays a proactive role in shaping communication strategies, campaigns and content geared to municipal, provincial and federal government representatives.
PM & PR
Now we can get to the juicy part about Humber getting a publicity boost from Justin Trudeau. In 2018, the prime minister chose the college's North Campus as the venue to unveil his government's new carbon tax on Oct. 23. Under the direction of their boss, Kelly Jackson, associate vice-president, Government Relations, Marketing and Communications, Leopold and Milic helped to prepare the campus for the prime minister as well as his ministers of finance, science and the environment, and their entourage of assistants, security guards and danger-sniffing dogs.
At the same time, they saw an opportunity in the prime minister's visit to showcase Humber's numerous advancements in sustainability. They organized a demo by students in Humber's Sustainable Energy and Building Technology advanced diploma program. They also showed off an energy retrofit to transform one of Humber's buildings into the country's first to achieve a Zero Carbon Building design certification from the Canada Green Building Council. As well, they prepared a gift bag for Trudeau that included sustainably sourced honey produced by Humber's on-campus beehives, and maple syrup from the trees in its arboretum.
Their PR-GR stroke of brilliance, however, was to quickly package the footage they'd captured of the event into a compelling video story, which they shared with the prime minister's team later that day.
The next afternoon, Trudeau tweeted out the video—generating more than a thousand likes and over 200 retweets. It has also since attracted almost 3,000 likes on YouTube.
"With that share by the prime minister, the event and Humber got much more exposure than they would have otherwise," Milic says.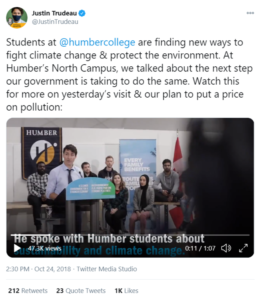 Another way Humber has cleverly combined PR and GR strategies took place last June. At that time, 400 nurses were graduating from the college. Given how important nurses and other front-line health-care workers have become during COVID-19, news of the new graduates was shared with Ontario Premier Doug Ford, who serves the riding containing the college's North Campus. Ford ended up lauding the graduates and the college while in session at Queen's Park, and, as Leopold notes, his comments became part of the official record of legislative assembly debates.
"Overall, communications helps along our government relations work and vice-versa," Leopold says. "Now, we automatically think about the relevant storytelling options or opportunities, and how we can extend the story."