Understanding Google's new higher ed search tool
By Sharon Aschaiek | July 4, 2018
Last month, Google changed the game for researching U.S. higher education options.
Now, when someone searches for a four-year college, information about admissions rates, average cost after financial aid and student life will show up directly in Search. It's also easier to access information about majors, graduation rates, the student body, notable alumni, comparable schools and annual income 10 years after enrolment.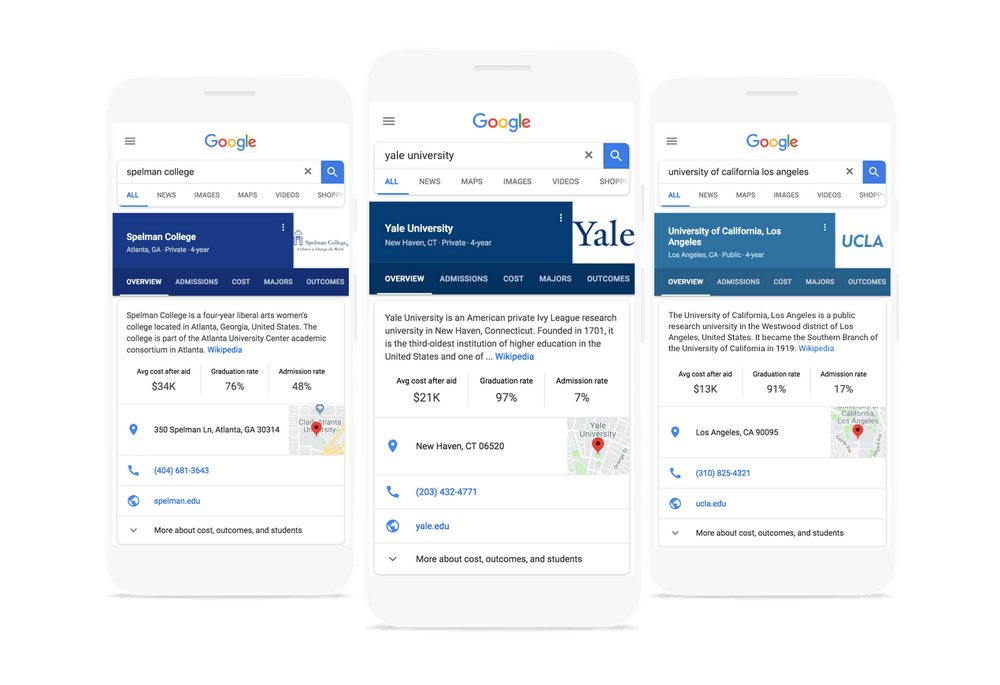 This tool uses public information from the U.S. Department of Education's College Scorecard, and the Integrated Postsecondary Education Data System. The goal is to make it easier to find key information about prospective universities and colleges so more informed decisions can be made. Google has rolled out the tool for mobile and made some features available on desktop.
Implications for recruitment marketing
What this tool means for higher education institutions has been covered in articles by Inside Higher Ed, The Chronicle of Higher Education, MarketWatch and other publications. I've summarized here a few important insights from some of these articles that are relevant to recruitment marketers.
Accuracy matters: Prospective students may now review several aspects of your school through this new search tool before clicking on your site. So, it's more important than ever to make sure your school's information is accurate and up to date. Do a Google search for your school to verify the information that comes up.
Enhance your content: If after reviewing your school's summary info on Google, a potential student clicks through to your website, you want to make sure they have access to fresh, relevant, useful and engaging content. And of course, regularly updating your site's content will increase the likelihood of your school showing up in organic searches. Make sure your SEO metadata, including the title of your page and its meta-description, is accurate and on message. Let's talk about your school's content needs and how to make improvements.
Re-evaluate your advertising budget: Google's new tool is helping to level the playing field by making important data about schools available off the hop. This means organic searches may start to yield more results for your school than those generated by your banner ads on Google, Facebook and other major websites and platforms. Pay closer attention to your website analytics to see whether and how to adjust your ad spending.
 Communicating with leads: Prospective students and their families who reach out to your school after using Google's new tool may have different questions than those responding to ads. As a marketer, you can help prepare your recruitment team to discuss the information Google shares and present it in the best light.