Samford University marcomm reorganization strengthens brand
By Sharon Aschaiek | January 30, 2019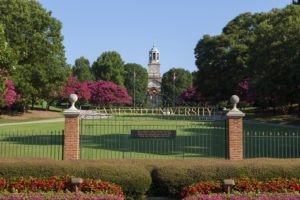 A strong organizational brand depends on integration and consistency—something that can be difficult to achieve at higher education institutions, where there can be a clash between the priorities of the central marketing and communication (marcomm) department and individual schools and departments.
Yet a unified brand has become increasingly important for post-secondary schools. In today's intensely competitive higher education environment, it's critical for schools to be effective at standing out and engaging with prospective students and other stakeholders. Also, a cooperative approach can help further stretch a tight or shrinking marcomm budget.
One school that has succeeded at applying its brand across its institution is Samford University in Alabama, U.S. By reorganizing marketing and communication functions into a more centralized structure, the university has been able to project a cohesive brand, which has had concrete benefits for its operations.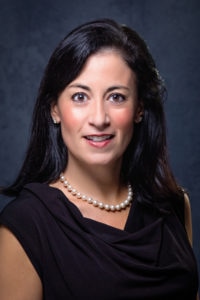 "Organizational structure is such a compelling topic today, because schools are facing the continual challenge of trying to do more with less, and stay ahead of the competition," says Holloway, vice-president, marketing and communication, who co-presented on this topic with at the American Marketing Association's 2018 Symposium for the Marketing of Higher Education. "I'm convinced the changes we've made are serving our institution better than it did in the past, because the marketing and communications goals and activities between the central office, schools and athletics are more aligned."
Prioritizing marketing
When Holloway was hired as Samford's chief marketing officer in 2013 (she had previously been chair of its business school for 11 years, and assumed her current role in 2015), she noticed that central marcomm focused mainly on communications, with a strong emphasis on content development. The department was led mainly by former journalists who excelled at storytelling, but what was missing was a strategic focus on marketing.
"The department was very much focused on news, not on branding or promoting the institution," Holloway says. "We needed to build the competencies of the team so that they could respond better to the needs of the campus and get the word out about our programs and schools."
For Holloway, priority number one was beefing up the department's marketing personnel, with a particular focus on hiring digital marketing experts who had experience working in public relations and advertising.
Building brand unity
Five years ago, Holloway says, Samford's 10 academic schools often conducted marketing and communications relatively independently from central marcomm, with some operating separate websites from the central site and using their own content management systems.
Each school also had its own marcomm budget, and a certain amount of autonomy in how they used it. Their approach to marketing was guided by their distinct school cultures. The result was that some of the schools almost had their own sub-brands that did not sync up with the school's overall brand.
It was clear that any effort to get the academic schools to follow a single, cohesive university brand in their marketing would require a patient, collaborative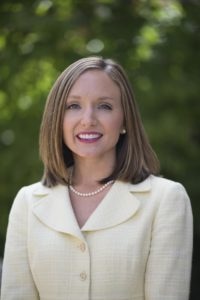 approach, says Katie Stripling, executive director, marketing and communications, who co-presented with Holloway at the AMA symposium.
"One thing I've l earned is that anything that is forced by central marcomm is subject to opposition," says Stripling, who up until 2017, was executive director of external relations in Samford's College of Health Sciences. "So it has been a long process that evolve naturally through a lot of consensus building."
Holloway and Stripling's approach involved discussing with academic deans the benefits of a more centralized structure: more support and guidance from central, and the ability to maximize resources, both of which would strengthen Samford's overall brand and help better attract new students. They also made changes as turnover took place among marcomm teams at academic schools.
They also helped each of the schools develop and implement a formal marketing and communications plan with goals and strategies that aligned with those of the university at large. As well, they included enrolment, fundraising, advancement officers, admissions officers, recruiters and alumni relations staff at schools in the process of taking a more unified approach to marketing and communications.
Rebranding boost
What bolstered central marcomm's efforts was Samford's formal rebranding that took place in 2016. The comprehensive process involved gathering both qualitative and quantitative research about the meaning and value of the existing brand, with feedback collected from more than 1,000 university stakeholders, including faculty and administrative staff.
The rebrand resulted in a new, coherent identity for the entire university, including all its schools and its athletics department. An online brand resource centre was developed to enable all communicators and marketers to promote the university more consistently.
Cooperative approach
As more schools agreed to the centralized model, the remaining schools learned of the benefits. Today, central marcomm at Samford consists of 24 staff, and the majority of marcomm employees at the different schools report directly to Stripling. While the schools still have their own marcomm budgets, there is now much greater cooperation between the schools and central marcomm on the objectives and approaches of marketing and communication initiatives.
"Five years ago, external marcomm firms could be hired by the schools. Today, we are at the table and leading efforts to decide if we should outsource. So it's been a pretty significant shift," Holloway says.
Adds Stripling: "By being more intentional about marketing and branding, our central dollars are now deployed more thoughtfully through input from our school-based colleagues, so we're making better use of our finite resources."
Holloway says a benefit of the marcomm reorg combined with the rebranding project has been an increase in school spirit, which has translated into employee giving rising to 84% in 2019 from 50% in 2014. Samford is also experiencing 10 years of record-setting enrolment levels, and Holloway credits the stronger brand as a contributing factor.
Stripling summarizes what underpins the success of their approach: working with the academic schools in a cooperative fashion to ensure everyone's needs are met.
"The way we define our mission is to support the enrolment, advancement and reputation-building activities of the schools and the university," Stripling says. "We're very intentional about being a partner to the academic schools."