Higher ed communications during COVID-19
By Sharon Aschaiek | August 12, 2020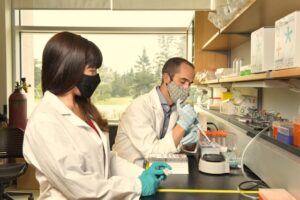 Brock University researchers participating in a local coronavirus research project. The article demonstrates the value to post-secondary schools of communicating their contributions to the pandemic response.
It's often said crises create opportunities.
COVID-19 has compelled us to put that notion to the test.
For universities and colleges, this is a make-or-break period. Surviving and thriving in this tumultuous time requires significantly upping your communications game.
Safety protocols, reopening plans, new learning formats and other developments should be clearly communicated. The concerns of current and prospective students need timely, compassionate responses. Faculty members need to know how they'll be supported by their schools. Constructive coronavirus efforts, such as research projects or tuition breaks, should be shared.
Post-secondary institutions that clearly, consistently and creatively communicate their pandemic response will have an edge.  
Communicating coronavirus responses
Some schools are really getting the hang of plague communications and marketing.
Ryerson University has created an inspiring video capturing how it has been responding to the pandemic. It includes footage of face shields being made using laser cutters and 3D printers in its Creative Technology Lab. Ryerson donated the shields to front-line health-care workers and local Indigenous communities.
Kudos to Memorial University for its new microsite, MUNUp, to help students navigate remote and hybrid learning during COVID-19. It includes information on orientation and transition programs, technological learning resources and, soon, details about virtual community-building events and workshops.
The University of Calgary has developed a COVID-19 live dashboard of known cases on campus. It not only tracks positive cases, but also how many arise from community transmission. It welcomes community input through a dedicated COVID-19 email address.
The University of Regina has shared a compelling account of how three of its researchers are involved in a local COVID-19 study on detecting co-infections in humans. The story explains their efforts to sequence coronavirus genes to develop a technique for better diagnosing infectious diseases.
With most schools requiring or encouraging people to wear face masks on campus, why not offer school-branded options? Western University is offering reusable cotton masks that are produced locally and, even better, by a business run by two alumni. Love that shade of purple!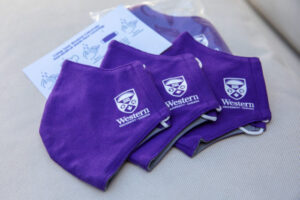 Two-way communication about COVID-19 is being nurtured at Brock University. It is welcoming alumni and graduating students share their story about helping to fight against the pandemic. The invitation page features a compelling graphic that asserts "This Affects Us All."
Finally, Notre Dame University has published a story in its community magazine on how the coronavirus causes disproportionate suffering for poor and/or undocumented people. Author Ailis Tweed-Kent, an alum who is an internist in urgent care at Massachusetts General Hospital, describes the health-care disparities she has witnessed as a result of structural inequalities, and echoes growing calls for more responsive political leadership. The article demonstrates the important role higher education institutions can play in shedding light on, and helping to address, not only the medical aspects but also the socioeconomic impacts of COVID-19.