COVID-19's communication lessons for one higher ed institution
By Sharon Aschaiek | January 13, 2021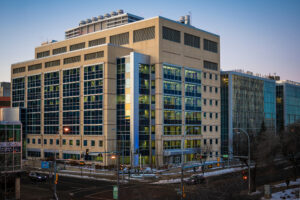 Universities and colleges in North America have now been dealing with the COVID-19 pandemic for about 10 months—enough time to test different adaptive communication strategies and tactics, and determine which ones work best for their institutions.
At the University of Alberta in Canada, the Faculty of Medicine & Dentistry has been taking stock of the communication lessons that have emerged during the pandemic. Salena Kitteringham, director of communications & marketing in the faculty, recently shared some of these lessons at last October's online 4th Annual Marketing & Communications for Post Secondary Conference.
"We work in a decentralized communications culture, and a lot of work we've been doing at the faculty level, in terms of internal communications, has been about humanizing the information and providing context," Kitteringham says.
Daily team huddles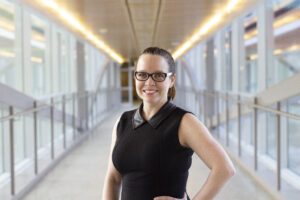 When the entire university switched to remote working, Kitteringham instituted daily 9 a.m. "huddles" via Google group chat with her team, which she held for three months. She also created a spreadsheet to coordinate the communications messaging of different senior leaders, and began providing them with daily situational reports featuring media coverage from the day before. Kitteringham also participated more regularly in senior leadership meetings, and notes that COVID-19 "crystallized the importance of senior communicators being at the senior leadership table."
Leveraging brand journalism
From the outset, a top priority for external communications was demonstrating the faculty's relevant medical expertise. To that end, Kitteringham's team of six contributed more actively to Folio, the university's brand journalism website. Several articles spotlighted the professional insights of associate professor of infectious diseases Lynora Saxinger, a member of Alberta Health Services' scientific advisory group. Kitteringham estimates Saxinger has conducted more than 700 media interviews—several times for CBC's The National TV news program, with one appearance resulting in a philanthropist donating to infectious disease research at the faculty. Folio was also leveraged to highlight the awarding in October of a Nobel Prize in Physiology/Medicine to faculty member Michael Houghton, a virologist who discovered the hepatitis C virus and is now developing a vaccine.
"These Folio stories are our media pitches—we share them as part of our targeted pitches to media, and on social, where reporters follow us for story leads," Kitteringham says.
Another communication vehicle that was leveraged was Momentum, the faculty's community/alumni magazine. Kitteringham decided it was important to pause the spring 2020 edition, which was to publish in early April, in order to make room for COVID-19 content. The resulting publication features four pages at the front of the publication with articles on topics such as the pandemic response of the faculty's Li Ka Shing Institute of Virology; emergency care services introduced by campus dentistry clinics; and how the faculty has been supporting the provincial government's COVID-19 testing efforts.
Capturing the leader's voice
An extra communications challenge for the faculty during COVID-19 pertained to the learning curve of working with a new faculty leader. Brenda Hemmelgarn was just two months into her tenure as dean when the pandemic struck.  The communications team worked to build and sustain the dean's voice through twice weekly COVID-19 email updates to faculty and staff, and bi-weekly "Conversation with the Dean" events on Zoom to establish human connection, contextualize information and keep the faculty connected throughout the rapid changes that came with COVID-19.
"To undertake an immediate, significant and sustained COVID-19-themed strategic storytelling campaign, across all owned and earned channels, it took strong teamwork within the faculty team and an emphasis on collaboration with our colleagues campus-wide," Kitteringham says. "While the stories we developed kept touching on resilience and how our community was stepping up, our storytellers were also living those themes, day in and day out. I'm proud of what we were able to achieve together as a communications team during these challenging but also meaningful months of hard communications work."