Boston College's award-winning communications during COVID-19
By Sharon Aschaiek | Feb. 3, 2021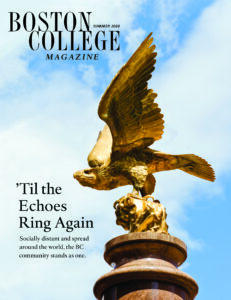 While COVID-19 has caused many disruptions in higher education, it has also given rise to numerous innovative communication responses.
Courtney Hollands is among the communicators in the sector who found creative ways to pivot her work. Hollands is the deputy editor of Boston College Magazine. the award-winning publication of Boston College, a private Jesuit research university in Massachusetts. Last March, as the college scrambled to evacuate the campus and transition to remote learning for the remaining seven weeks of the spring semester, Hollands and her colleagues wondered how they would reflect this dramatic turn of events in the summer 2020 edition.
"It was March 11 when students got the email that they would have to return home. Right after that, we leapt into action," says Hollands, who has worked at the thrice-yearly magazine since December 2019, and as an editor and writer for newspapers, consumer magazines, and higher ed publications since 2004.
While planning and production on the summer 2020 issue was well underway, the timing was such that the magazine team—which includes an editor in chief, a staff writer and an art director—had the flexibility to rethink the feature well. Hollands and the editor in chief brainstormed the various angles they could take to demonstrate the school's response to the public health threat.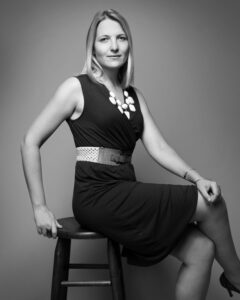 The resulting issue includes a 15-page package of personal and poignant articles—several first-person reflection pieces along with some reported stories that capture strength, resilience, confusion and worries of different BC College community members: academic administrators, faculty members, students and parents.
"We had to come up with this concept quite quickly. It was a little challenging to reach people because of all the flux, and we certainly appreciate everyone that took the time to participate," Hollands says.
"Moving Out: An Oral History" is a conversation between the college administrators who were involved in the mammoth undertaking of helping 7,000 students move off campus in just four days, safely accommodating the remaining 300 students, sanitizing the campus, and implement social distancing and quarantining protocols. In an article on the status of continuing education during the coronavirus, Hollands shares the creative tactics used by faculty members to teach their classes online.
In other articles, we hear from student athletes whose sports dreams have been upended; a Martin Luther King, Jr., scholarship holder who compares the pandemic to a riptide, "one that has swept us all out and away from feelings of normalcy and groundedness"; an English professor who developed a virtual tour of local landmarks for his course on author David Foster Wallace's opus, Infinite Jest; and the mother of a sophomore student back home in London, England, who notes "getting through this together [with the BC community] is almost more of a learning experience than the actual course work."
Recently, the summer edition of Boston College Magazine, along with the spring 2020 issue, won a gold award in the magazine category from the Council for Advancement and Support of Education (CASE), the global non-profit association dedicated to educational advancement. The judges found the design to be "clean and inviting, and the writing to be sharp. The mix of stories felt intimate to the college and inclusive of larger topics."
"That was nice to read," says Hollands, noting other CASE awards received for specific articles. "We're always trying with the magazine to tell the stories that matter to our community as well as promote our research and experts as part of the national conversation."