Dissecting an award-winning donor report
By Sharon Aschaiek | Oct. 24, 2018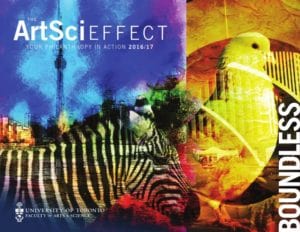 Earlier this year, I blogged about the higher education winners of the 2018 Ovation Awards, which are granted by the International Association of Business Communicators (IABC) – Toronto Chapter. One project that received an Award of Excellence was the University of Toronto Faculty of Arts & Science's 2016-17 donor report, The ArtSci Effect.
The publication has also scooped up two other outstanding communication awards: a Silver Prix D'Excellence from the Canadian Council for the Advancement of Education, and a Gold Quill Award of Merit from IABC. Given all the accolades this report has received, it's worth doing deep dive into how it came together, and what makes it great.
Demonstrating impact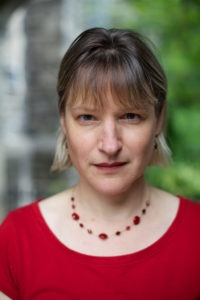 The project was led by Diana Kuprel, director of alumni relations and advancement communications at the faculty. She says what set the project on the right track was establishing a clear purpose: demonstrating the effect of philanthropic donations to the faculty in creative, engaging ways.
"We wanted to show the broad impact of philanthropy in terms of contributions of treasure, talent and time to the faculty, and what these gifts make possible," Kuprel says. That meant choosing content that focused less on spotlighting donors and more on highlighting donor-supported projects and achievements.
Gathering ideas
Kuprel and her two direct reports — graphic designer, art director and primary photographer Jackie Shapiro, and advancement communications officer/primary writer Phil Boughton — together collected story ideas that emerged from various quarters within the faculty and university.
Many came from reports and web content produced by the faculty's three main academic entities: the Jackman Humanities Institute, the Dunlap Institute for Astronomy & Astrophysics, and the Munk School of Global Affairs and Public Policy.
Repurposing suitable material allowed the faculty to stay within its tight budget, and also be mindful of its mandate to focus on generating money for the faculty versus spending it.
Striking, meaningful art
For the book's look and feel, the team decided to use artwork by Osnat Lippa, a digital artist and photographer who uses layered and collaged imagery to express the complexities of modern life.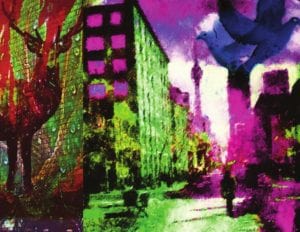 Her artwork was a good fit for two reasons. First, her artwork raises questions about Canada's identity – a topic that was top of mind in 2017, the date of Canada's 150th anniversary.
Second, Lippa was the artist-in-residence at the Anne Tanenbaum Centre for Jewish Studies. The Tanenbaum family has been a significant philanthropic supporter of the faculty.
"With her artwork, there was a tie-in to philanthropy to our faculty, but moreover, it makes you reflect on nation building at this critical time in our country's history, and how the faculty is contributing to contemporary conversations about Canada," Kuprel says.
Telling the right stories
The Faculty of Arts and Science at U of T is large and diverse: it consists of 29 departments, seven colleges and 46 interdisciplinary centres, institutes and programs. The advancement communications team had to carefully consider which philanthropic initiatives to highlight so that the faculty's broad range of academic areas, key priorities and major accomplishments and would be reflected.
What ended up being chosen for this 33-page report are stories such as those on a conference about Canadian literature, the land, and Indigenous and racialized communities; a research collaboration with the University of Western Cape in South Africa on the role of art in social inquiry; and an important discovery in the Milky Way Galaxy.
The content in the publication is strong not only for its diverse topics, but also for its mix of formats and genres. It includes lengthy feature stories, brief profiles, infographics, a Q&A, an short story excerpt and more. This variety helps keeps the reader engaged.
Spreading the word
It took Kuprel and her team about six months to conceptualize, develop and publish The ArtSci Effect. It was distributed in print to 3,000 major donors, and is available as downloadable PDF; all of the content is also featured on a dedicated website. It was shared on the faculty's social media channels and its enewlsetter for alumni and friends.
Says Kuprel: "We hope that by telling interesting stories that show why philanthropy matters, that people will be inspired to consider our faculty within their own philanthropy goals."