Highlighting higher ed successes on social
By Sharon Aschaiek | Nov. 21, 2018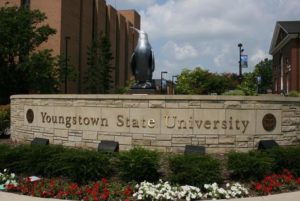 We can use social media to help our higher education institutions shine by sharing school achievements and successes. But exactly what kind of content works best, in which formats and on which platforms? And how do you get the members of your social/digital team on the same page?
Of course, these answers will vary somewhat by institution. But Kati Hartwig has discovered some tried-and-true strategies to leverage positive news at Youngstown State University in Ohio that could be useful to other schools. The social media and digital marketing coordinator for YSU recently addressed this subject at the 2018 eduWeb conference in a presentation called "Collaborate and Communicate: Highlighting Campus Successes on Social Media."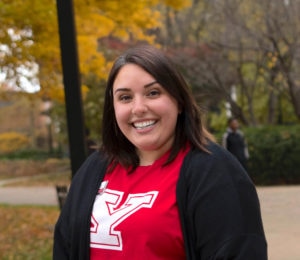 "We have a lot of opportunities to highlight campus accomplishments – the trick is working with my team to identify which ones might get good traction, and how we want to present them," Hartwig says.
Multi-channel approach
Youngstown is active on six social media platforms: Facebook, Twitter, LinkedIn, YouTube, Instagram and Snapchat. They tailor content for each channel's specific audience(s): Facebook and LinkedIn are for communicating major developments and accomplishments to alumni, parents and community members; Twitter and Instagram are for sharing campus news and scenic campus shots with current and prospective students; student takeovers have been effective on Snapchat. At the moment, YouTube mostly houses all of the videos they produce.
Hartwig is the sole employee in her department, but she oversees a team of four student employees who help with functions such as digital advertising, scheduling and monitoring posts, taking photos and shooting video. She fosters a cooperative work environment, and says the unique perspective they bring to the work as YSU students helps make the content more relevant.
Sharing successes
The types of university accomplishments Hartwig and her team share may relate to the entire institution, a certain department or faculty, or a specific faculty member, staff member, student or alumni. At the moment, plenty of campus development work is underway at YSU, so stories on new academic buildings, student housing and recreation fields supported by donations are newsworthy. Other items include research breakthroughs, faculty awards, graduation days and innovative student projects.
Research initiatives in particular, and the role of faculty members and students in these initiatives, are prominently shared on social, as they help reinforce the university's brand identity.
"Youngstown promotes itself as a comprehensive an urban research university, so we want to show our followers what that means, and the impacts of this research," Hartwig says.
Staying in the loop
Hartwig and her team stay current on campus affairs by staying in regular contact with communicators, faculty and staff from different faculties and departments. She also liaises regularly with the school's marketing and communications office to determine if good news shared with them should be included on social. Sometime soon, she'll hold a meeting for representatives from different areas of the campus to discuss upcoming campus activities.
The team tries to ensure enough variety in the format of posts by including a healthy mix of text, photos and, especially, video. The nature of the story being shared will also influence the format of the content. One format that has proven very popular are video mashups that highlight student activities in class, in service projects and in other contexts.
"Students love to see if they can see themselves in these videos, and if they do, they share it," Hartwig says.
Research, pride and fun
So which success stories have really struck a chord with YSU's followers? Here are some examples of some recent high-performing posts:
Facebook video: passion project research collaboration between two YSU students, one in music recording and the other in computer science, who are turning photos into musical pieces. The video could only be directly linked through YouTube, but on Facebook, it received 109 likes, 22 comments and 71 shares.
LinkedIn video: A congratulation the YSU class of 2018 – it received 223 likes, 17 comments and 8,268 views.
Tweet: The "wedding vows renewal" of Pete and Penny Penguin, YSU's beloved mascots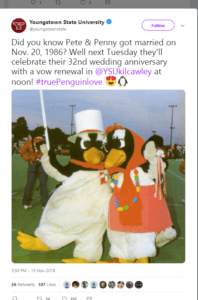 Tracking performance
Hartwig uses the social media mining tool Nuvi to monitor digital conversations about YSU and assess which posts are hitting the mark. She also regularly reviews metrics, and includes the insights in biweekly social media reports for her team and for YSU leaders.
"I'm trying to get social media to be a more prominent consideration when it comes to budget time," Hartwig says," and demonstrate how it helps to achieve YSU's business objectives."