Marketing campaign highlights why VIU is #WorthIt
By Sharon Aschaiek | Jan. 22, 2020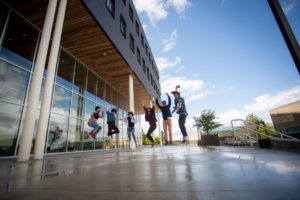 When it comes to appealing to prospective students, Vancouver Island University knows how to demonstrate its worth.
About two years ago, the four-campus west coast school was looking for ways to drum up business. VIU attracts many first-generation university students, with their average age being 26. This means they are more likely to be juggling jobs, families or other commitments, which can create challenges to pursuing higher education. VIU sought to make the school more accessible to this population in addition to senior high school students.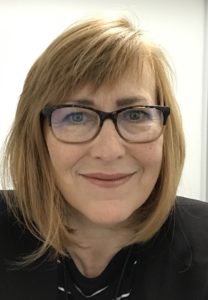 Shari Bishop Bowes, manager of strategic marketing, led the effort to develop a new recruitment marketing campaign with her team, which includes a digital marketer, three graphic designers and a videographer. The goal was to figure out how to explain VIU's value in a way that is useful to prospects.
She turned to the intelligence collected by VIU recruiters from their field work. That, combined with VIU data on the most common topics relevant to prospects, informed their brainstorming. One discussion about how to highlight the benefits of a university education—achieving a higher income, finding a fulfilling passion, enjoying a meaningful career—prompted one of the graphic designers to exclaim, "It's worth it!"
"Marketing is a lot of data and analysis to get the right strategy, but there is some magic in there sometimes," Bowes says. "Everything seems to flow from that slogan. All the things we wanted to say came out of 'It's worth it'."
The team developed the concept for a microsite featuring the most relevant information for those considering post-secondary education, and branded it #WorthIt2019. They designed the site in house, opting for a concise, youthful look and single-page format with numerous links. Feedback from recruitment and communication colleagues helped to refine the concept.
Last November, VIU launched the second iteration of the campaign, #WorthIt2020. The site features six categories of information that address the most pressing questions around a university education, and what VIU offers: deciding what to study, paying for university, finding employment, island life, balancing life with studies, and making a difference. The last two categories are new this year.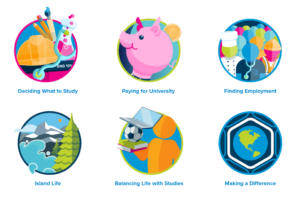 What is also new about this year's campaign is that it includes the chance to win a prize. New full-time domestic students can enter to win a $2,500 credit towards tuition this fall.
"The prize allows us to capture leads and communicate by email information that is important at different stages of the enrolment journey, for example, about opportunities to visit campus, and registration deadlines," Bowes says. "It also lets us track the results of the campaign."
The #WorthIt2020 campaign is being supported by online and outdoor ad campaigns as well as a strategic social media plan involving VIU's platforms: Facebook, Instagram, Twitter and YouTube. So far, Bowes says, the results of the campaign are promising.
"Traffic to the page, and entries for the prize, are both double what we initially hoped," Bowes says. "The real positive will be whether we see more applications—that is the goal."
There was another win that came out of the two #WorthIt campaigns: the development of a successful on-brand marketing campaign with limited resources in terms of people, budget and time.
"My team has some amazing skills, and it's a massive point of pride for me that they care so much and put themselves into this project with all their hearts," Bowes says. "Maybe people in this sector think they need large budgets to do creative marketing work, but in fact, all sorts of things are possible with the right talent."