Podcast positions college as future-of-work thought leader
By Sharon Aschaiek | January 20, 2021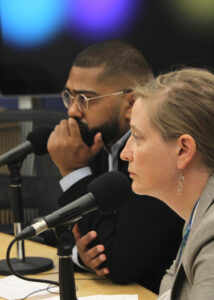 When an academic institution establishes itself as thought leader, it can demonstrate its diverse expertise, inform and elevate public discussions, and stand out in the marketplace. When executed with the right communications strategy, a thought leadership campaign that offers authoritative insights on key issues and trends bolsters a school's reach, credibility and influence.
A fine example of thought leadership communications is Work Shift, a podcast by George Brown College in Toronto that explores the future of work. It was developed in 2019 by senior digital content editor Shawne McKeown to support the college's Vision 2030, Strategy 2022 plan, which commits to helping learners build "future skills" for a labour market being affected by automation, artificial intelligence and digitalization.
"Podcasting is an excellent vehicle for telling the college's stories in a fleshed-out way," McKeown says. "It's an intimate medium where you hear real people talk about important issues. And we don't have the constraint of word counts and brand guidelines, so there's a lot of freedom."
George Brown supported McKeown's idea and provided funding. An avid podcast consumer, McKeown turned to her favourites for inspiration regarding format and length. She also got up to speed on the equipment she would need to record, edit and publish. Another employee with the same idea—Ray Harripaul, administrative assistant to the chair of the School of Marketing—joined as her partner. They were able to access recording space and production equipment on campus, but since the pandemic, have been improvising at home. 
Capturing the key trends
Since late 2019, the pair has produced 14 podcasts that probe the key trends reshaping employment in sectors such as health care, hospitality, finance, education and construction. Other topics have included the growth potential of blockchain, the rise of service robots, the opportunities of the emerging green economy, and the evolution of work placements for students. More recent episodes have weighed in on how the COVID-19 pandemic is changing workplaces. Each episode is about 20 minutes—"the perfect length for listening in your car or on the subway," McKeown says.
Most Work Shift episodes feature interviews with George Brown professors, faculty and employees, as well as external experts, including, notably, distinguished American economic and social theorist Jeremy Rifkin, which McKeown says helps broaden the podcast's appeal.
Making conversations count
Considering her podcasting journey so far, McKeown says one of the most important—and often challenging—aspects of the work is making sure she is knowledgeable enough about each subject to facilitate an insightful and interesting conversation with her guests.
"I'm not an expert in any of these areas, and I don't want to go into an interview with a professor without having done proper research, so there's a lot of preparation that happens," she says.
Tracking success
Promotion of the podcast takes multiple forms: in addition to having its own dedicated webpage, it is featured on strategic college webpages geared to prospective students, guidance counsellors and other key audiences. Episodes are primarily promoted on the college's social media channels, and likes and comments are tracked. Also monitored are the number of listens to episodes, and unique visits to the podcast page. Feedback about the podcast among college employees has been overwhelmingly positive; McKeown is working on better ascertaining its success among external audience members.
Says McKeown: "It's been a great way to insert George Brown into broader conversations about trends that are affecting a lot of people."