Conference examines higher ed communications issues
By Sharon Aschaiek | May 22, 2019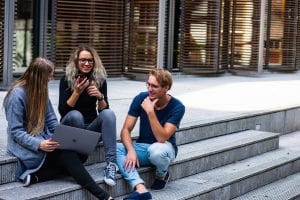 Communicators working in higher education face a unique set of circumstances. A crowded marketplace, a diverse range of stakeholder audiences, declining government funding, fast-changing digital marketing technologies, brand incoherence within their organizations—these are some of the distinct challenges they face as they try to advance their universities and colleges.
Recently, a professional development conference geared directly to this niche group of professionals took place in Toronto: the 3rd Annual Marketing and Communications for Post-secondary Conference. The three-day event featured presentations and workshops on the main problems and solutions related to promoting a higher education institution and engaging its constituents.
The presenters shared insights, stories and ideas relating to their first-hand communication experiences at their schools across Canada: Fanshawe College, the Manitoba Institute of Trades and Technology, Queen's University, Simon Fraser University, the University of Alberta, the University of British Columbia, the University of Guelph and Western University.
This year, I was able to attend day 2 of the conference—here are a few key insights from two of the presentations.
Streamlining social at U of G
The University of Guelph recently dealt with a pressing communications issue: multitude of social media accounts used for different purposes and with different approaches by various departments and faculties at the institution.
"About three years ago, we had dozens of handles on 27 channels, most were poorly used, there was a lot of inconsistent and/or infrequent posting, and the engagement metrics were non-existent," said Jenna Easter, U of G marketing and communications coordinator, who co-presented with Emily Jones, manager of communications at U of G's McLaughlin Library. "Too many channels is confusing for students, and all the messages clog their feeds."
U of G hired an external agency to assess the brand reputation of the university, and a decision was made to collapse all of the social media channels into a few official accounts.
A key part of this process involved educating university faculty and staff about important aspects of using social media effectively. This included dispelling the myth that sharing more content on fewer channels would overwhelm followers.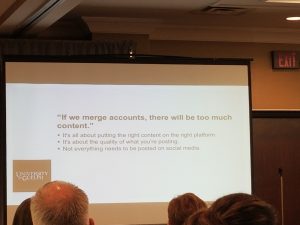 The effort also involved building closer relationships with those who had created their accounts many months or even years ago, and were reluctant to give them up.
"Times of change can be scary for people, and they may not want others managing their content, but if you get them involved in sharing their content with you, it makes them feel part of the process, and it also helps you with your workflow," Jones said.
In addition to centralizing most of the university's social media activity, U of G also created guidelines for using accounts not managed by central marketing and communications.
SFU's brand journey
In a presentation called Little Whispers, Dirty Secrets and Guilty Pleasures, Laurie Morris, managing director of marketing and brand management at Simon Fraser University, shared about the journey of developing and promoting the school's new brand architecture.
Historically, she said, SFU had always presented its brand identity in comparison to other institutions, rather than projecting its unique character and qualities. As well, SFU branding was inconsistent, with different visual identities and taglines being used for different departments, faculties and campaigns.
Working with a branding consultant, SFU landed on three specific attributes to define SFU's new brand were: fearless, unconventional and accessible.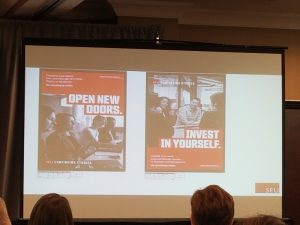 Said Morris about the process: "In the past, when considering our brand, the knee-jerk response has been that we need a new logo. We were helping people at SFU understand that a logo can only do so much…We would discuss the rational to have a more uniform identity. A brand is people on the outside looking in."